SOCIAL APOSTOLATE
Objectives:
To consciously work with team spirit striving to develop the habit of sharing, dialogue and communion.

To become aware of the ever growing unjust structures which is in total contradiction to the values of the Gospel.

To develop and promote and attitudes of respect, equality, compassion, love and hospitality with all persons with whom and among whom we work.

To cooperate and collaborate with the government and other agencies to make health care assessable for all, in accordance with the teachings of the
1 Puthiyathisai (CBR), Madurai
Differently abled people
 Aids and appliance are made available from the Government
Awareness programmes are conducted.
Medical camps and medicines are provided.
Self help groups
 Loan for medicine, education and livelihood
Tailoring for women
Income generation programmes for the SHG's
Awareness programmes on women's  Rights, HIV/AIDS, Tuberculosis…
Widow pension
Children
Education help is given for books, uniform, stationery, fees from 1st std to Degree)
Children are given an opportunity to attend Camps conducted by NGOs
Youth
Vocational Training in Mechanism – electrical, computer, handicraft.
Residential care and special education for the mentally challenged children.
Cultural training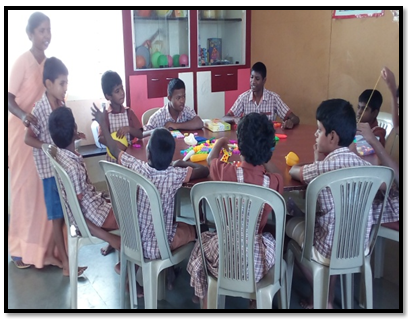 Sports for differently abled- District, State and National level.
Government facilities : ID card, travel ID, financial support and loan.
CIHDSA (Centre for Integrated Human Development and Social Action) is to form Women Sangams in and around Coonoor.
WOMEN
Special training for women is given on:
Animator and Representative Training

Members Training

Skill Training

Tailoring, Knitting and Embroidery

Catering

Home Appliances

Homemade Chocolates

Glass Painting

Paper Bag Making

Candle Making

Phenol & Soap Making

Beautician
ADOPTION OF TRIBAL VILLAGES
Tribal Villages are visited regularly and many Medical Camps are conducted.
Tribal school dropout children are identified and admitted in schools and hostels. 
DE-ADDICTION CENTRE
Alcoholic patients are admitted and given treatment and counselling.
TAILORING CLASSES
Tailoring classes are conducted and certificates are issued after completing 6 months course.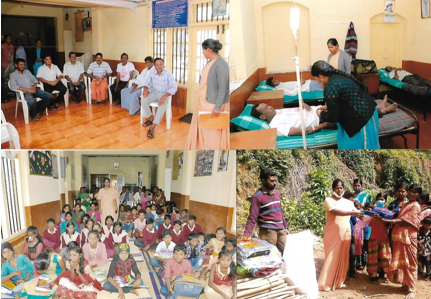 1

Puthiyathisai (CBR)

Puthiyathisai, St Joseph's Convent, Alampatti, Sedapatti Road, Thirali-post, Thirumangalam-Tk, Madurai- Dist,  Pin code- 625 706            TAMIL NADU, SOUTH INDIA

09944405814

stjosephsconventmadurai@gmail.com

2

CIHDSA

CIHDSA

St Joseph's Convent

Mount Road   Coonoor

The Nilgiris 643101

 Tamil Nadu

0423 2236604

9597983204

cihdsa1997@gmail.com