Brief History:
The Congregation of the Sisters of St. Joseph of Tarbes was founded in the year 1843 by six young peasant girls who had a special experience of God, which urged them to live together a life of contemplation, thus living in Communion, they became sensitive to the needs of people around. They responded enthusiastically to the call to educate children, to care for the sick, poor and the needy and to undertake many other forms of services according to the needs of the people around them without any discrimination. Through the ages the Sisters persevered in their mission with faith in God, heroic courage and optimism even in moments of great difficulties, opposition and challenges.
The Educational Institutions of the Sisters of St. Joseph of Tarbes are inspired by the life and teachings of Jesus Christ and are guided by the socio-economic and political goals enshrined in the Constitution of India. All our educational, vocational, technical Institutions founded by the Sisters of St. Joseph of Tarbes have the same vision.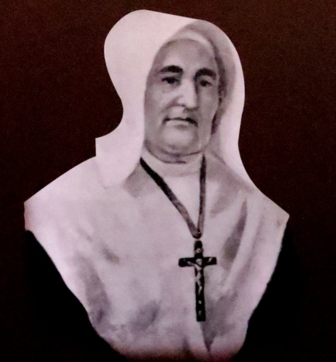 Mother Marie Des Anges the Patroness of our Education Ministry.
Thanks to Mother Marie Des Anges under whose guidance our early sisters entered into the teaching ministry.  To commemorate the death anniversary of Mother Marie Des Anges the SJT Education Day is celebrated on the 26th of November every year. 
OUR SJT VISION:
We the Sisters of St Joseph of Tarbes radically share the Vision and Mission of Jesus "Father, May they all be one". John 17:21
 OUR SJT MISSION :
To mould young individuals, to be intellectually enlightened, morally upright, spiritually inspired and socially committed people, emotionally balanced, skill-based youth to serve the society in the twenty first century.
 OUR OBJECTIVES :
| | |
| --- | --- |
| FULL HUMAN EFFECTIVENESS | To enable every student to tend towards wholeness. |
| | To inculcate in every student a sense of values both human  and spiritual, leading her/him To the Ultimate Reality – God. |
| ENLIGHTENED COMMITMENT | To lead every student to selfless love and service. |
| | To help every person to become an agent of justice, peace, reconciliation and  liberation. |
| THE INSTITITUTION | To build an academic community of freedom, respect and mutual service. |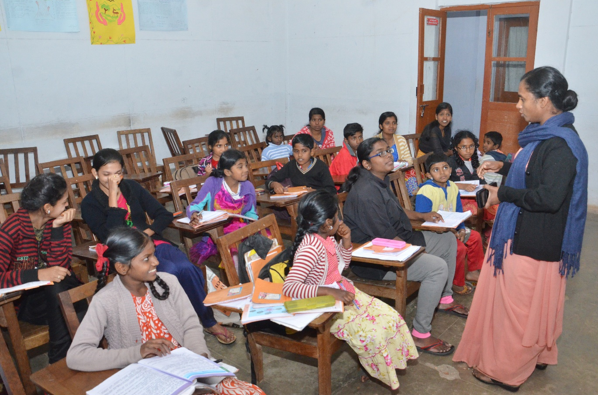 The Nilgiri Society has a College for women and 5 Schools in 3 communities. Importance is given for the poor and the Catholic children of the locality. SJT Sisters also work in 3 Diocesan School. 
 SJT Education Institutions
Sl. No
Name of the Institution
Address
Year of Establishment
Phone
Email Id

1

Providence College for Women (UG, PG, M.Phil, Ph.D) 

Providence College for Women, Spring field, Coonoor, 643104 The Nilgiris

 

1966

0423 2234084

Fax:

0423-2237949

providencecnr.org

providencecnr@gmail.com

2

St Joseph's Convent Anglo Indian Girl's Higher Secondary School

St Joseph's A.I. Girl's Higher Secondary School Mount Road Coonoor. 643101

1900

0423 2230004

9487132252

stjosephsconvent.com

sjcconventschool@gmail.com

3

St Joseph's Special School (For the Mentally challenged children)

St. Joseph's Special School, Alampatti, Sedapatti Road, Thirali-post, Thirumangalam -Tk,  Madurai- Dist, 625 706            TAMIL NADU, SOUTH INDIA

2011

7094275604

sjt.splschool@yahoo.com

4

St Joseph's Matriculation School

St Joseph's Matriculation School, Alampatti, Sedapatti Road, Thirali-post, Thirumangalam-Tk, Madurai- Dist,  625 706 TAMIL NADU, SOUTH INDIA

2017

8682086790

sjc.npschool@gmail.com

5

St Joseph's Convent Nursery and Primary School

St Joseph's Convent Nursery and Primary School

Palamadai

Thirunelveli – 627359

 Tamil Nadu

2012

8012244874

sjcspalamadai@gmail.com

6

St Joseph's Convent School (ICSE stream)

St Joseph's Convent School

Mount Road Coonoor 643101

The Nilgiris, Tamil Nadu

2020

9597983204

sjcscoonoor@gmail.com
Non SJT Education Institutions
Sl. No
Name of the Institution
Address
Name of the Diocese

1

St Mary's RC Primary School

 Eduthukatti, Thirukkalachery   609312

 Nagai Dt, Tamil Nadu

Tanjavur

2

RC Middle School

Mahindi Michaelpattinam

Via Pamboor

Ramnad Dt. 623706

Sivagangai

3

RC Primary School

RC Primary School Doddagajanur, Thalavadi 638461

Erode Dt. Tamil nadu

Ootacamund